If you're enjoying the season so far, vote here!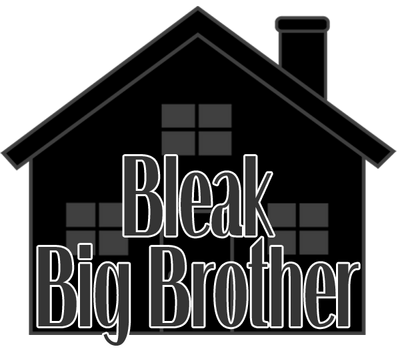 Bleak Big Brother
is the first season of
Bleak Moonlight's
Big Brother
series. It is a spin-off from the normal Big Brother series, set in the United Kingdom basing off of the United States' rules for Big Brother, with some minor tweaks for originality sake. It features eighteen housemates attempting to win a £100,000 prize.
Twists
America Rules: The rules from the U.S. big brother will be in effect this season. This includes the Head of Household challenge, the Power of Veto challenge and the household eviction process.
+1 Pass: The contestant who manages to find the +1 Pass hidden in the house will be allowed to vote twice instead of once at an eviction of their choice. If they are eliminated without using it, they must will it to another player still in the game.
Immunity: At random times in the competition, Immunity will be available through a challenge. Immunity Challenges became a recurring part of the game, occuring every week as of Week 02.
Killer Nomination: If a housemate receives a Killer Nomination, it means they will be up for eviction every week until they are finally evicted. However, if a Killer Nominee manages to outlive their status, they will receive a reward which has not yet been disclosed.
Brit Week: Week 04 of the competition was officially labelled as "Brit Week", where the housemates would nominate fellow housemates against the public vote. Immunity will be available at random times during the week, with more twists to come.
Rewind Button: In Week 05, Winter had the opportunity to push the Rewind Button, which would restart the week. Since she was up for eviction, she pushed the button.
Types of Challenges
Head of Household - Every week, the Housemates must participate in a challenge to determine the Head of Household for that week. The HoH determines a lot of things in the house, most important being the nominated housemates for that week, unless a twist is in play that prevents them from doing so. However, unlike the normal BBUS version, the Head of Household doesn't have as many perks such as their own bedroom and such, with the main use being the power to nominate housemates for the week.
Power of Veto - Every week, the Housemates must participate in a challenge to determine the holder of Power of Veto for that week. The PoV holder may save one of the nominees from potential eviction, or they could choose not to use it. Every housemate can participate in the PoV challenges this season, apart from the Head of Household.
Immunity Challenge - At random times in the house, a challenge will occur for immunity from being evicted for the week. The first immunity challenge took place in week 02. 
Third Nominee - The Third Nominee challenge is a recurring challenge that began in week 03. Through either a face-to-face vote, or a challenge depending on the week, a third nominee will be placed on the block before the Power of Veto challenge. 
Have / Have Nots - Every week, the Housemates must participate in a challenge to determine whether they will be Have or Have Nots, Have Nots have less supplies available to them, and must sleep in the Have Nots room, with less comfy mattresses and more uncomfortable bedding. They will have to eat on an economy budget instead of a luxury budget, and will not have luxury items. This type of challenge began in Week 05.
Temptations - Temptations are a recurring theme in the house, where the housemates will give up their chances at winning a challenge to win a perishable reward in return, usually being "luxury" food, drinks or other perishables that they desire. Some Temptations are more drastic, such as family visits and days in a private room away from the house.
Houseguests
| | | | | | | |
| --- | --- | --- | --- | --- | --- | --- |
| Barry | Byron | Cassie | Charlotte | Estelle | Howard | Kia |
| | | | | | | |
| --- | --- | --- | --- | --- | --- | --- |
| Misha | Natalie | Riccardo | Victor | Winter | Lawrence | North |
| | | | | | | | |
| --- | --- | --- | --- | --- | --- | --- | --- |
| Fallen | Roman | Arion | Noelle | Frankie | Rochelle | Jasmine | James |
Alliance History
Girls Alliance - Rochelle, Noelle, Charlotte. (ended upon Rochelle's ejection)
Pink Alliance - Misha, Roman. (ended upon Roman's eviction)
Tattoo Alliance - Charlotte, Riccardo, Fallen, Howard, North.
Competitive Alliance - Byron, Misha, Victor, Estelle, Cassie.
Newbie Alliance - Barry, Natalie, Kia, Lawrence.
Game History
Week 1
All of the contestants enter the house and settle in. Frankie, James, Victor and Byron immediately get along very well and talk about their family outside of the house. Meanwhile, Misha, Cassie and Estelle immediately clash and squabble amongst themselves while everyone else is claiming their beds. Some time after, everyone gathers on the sofas with alcohol and they discuss their backgrounds amongst everyone. Most people tell the truth about their careers, while Cassie and Howard lie. Cassie explains how she models for a small company, while in reality she models for huge companies across the globe, and Howard states he's a librarian when in fact he's a private eye detective.
However, Big Brother proceeds to interrupt the conversation with the announcement of the first Head of Household competition starting. Housemates had to find keys hidden around the house, to unlock puzzle pieces in the garden. They would then proceed to complete the puzzle after unlocking three bags of puzzle pieces. The competition started, with everyone rushing up from the sofas except from Estelle, who was more content just chilling out. She proceeded to the diary room, where she explained that she had no intention of competing in the challenge, and instead she'd just lay low for the first week to get a better grip on the housemates and their personalities, to later use them to her advantage.
Jasmine, Arion and Cassie led the competition and managed to get all their puzzle pieces before anyone else. Cassie then struggled to keep up with the puzzle, giving Jasmine and Arion an upper hand. A very close competition ended with Jasmine winning the first Head of Household of the season, and the other housemates congratulated her. 
Jasmine
Meanwhile, Estelle is still sitting on the sofa, when she notices something sticking out from one of the pillows. She grabs the letter, and immediately heads to the Diary Room. "Luckily nobody saw me come up here from everyone celebrating that strangers victory over them. Regardless, let's open this bad boy." She opens the letter, and begins to read it aloud, "Congratulations, you have found a +1 Pass. This ticket allows you to vote twice in one eviction, you may use it how you will, but it must be played before the finale. Wow, day one and I'm already the second most powerful person in the house, from doing nothing! Now just gotta avoid eviction, piece of cake."
Estelle returns to the house, and sparks up discussions with the other contestants. James and Byron are discussing the challenge in the bedroom, trying to come up with reasons why they didn't win. Charlotte walks in on their conversation by accident, and immediately leaves. James goes to the diary room, and explains how he doesn't want to be perceived as playing a game this early on in the competition. Cassie and Arion become close because of the challenge. The contestants proceed to celebrate their first night, before heading to sleep for the first day.
The next day, the housemates wake up in high spirits, albeit a bit hungover. After everyone has properly woken up, it is time for Jasmine to make her nominations. Before everyone is gathered, Jasmine removes two pictures from a small decoration which has all of the contestants on. All of the housemates are gathered to the sofas, and the decoration is placed in the middle of the circular sofa. Jasmine then introduces the nomination ceremony, and proceeds to unlock the first picture, revealing Fallen as safe. Fallen stands up, and unlocks another picture, revealing Noelle to be safe. One by one, people are becoming safe, leaving James, Estelle and Rochelle as the last three left. Winter unlocks the final picture, revealing Estelle to be safe. 
"James, Rochelle, I have nominated both of you for eviction just because I haven't talked to you a lot, it's been really hard picking people since we've only been here for one day. I'm sorry and I hope you won't take it personally." She explains, and the two nod. Jasmine then ends the ceremony and goes to the Diary Room. "Rochelle was just a wild card that I randomly chose, but apparently James has been scheming according to Charlotte, so I'm just gonna play it safe and nominate him in case he tries to do anything sneaky that will have a bad effect on me. Sorry in advance if Charlotte was feeding me crap." She explains.
James and Byron head to the Diary Room as James explains his frustration and annoyance with being nominated for eviction so soon. Byron reassures him that he still could win the Power of Veto challenge, and must prepare himself for it. Misha and Cassie apologise for their argument when they first entered the house, however, Cassie returns to the Diary Room and explains that she's still holding a grudge against Misha. She then goes on to explain how difficult and frustrating it is to live with other people in such a cramped environment, you can't escape anything. Meanwhile, Rochelle begins to devise a plan in case she doesn't win veto, creating an alliance between her, Charlotte, and Noelle. Noelle explains in the Diary Room how excited she is to be in an alliance, and that she feels really empowered, while Charlotte explains her concern about being seen as a threat, as people are eventually going to catch on that they're planning together.
Most of the Housemates are relaxing outside, while the weather is decent. Frankie, Howard and Fallen discuss their families outside of the house, with Fallen becoming slightly emotional. After relaxing for what seemed like two minutes, the Housemates are called to the Power of Veto competition, taking place in a separate room in the house reserved for challenges. For the challenge, the housemates have to throw rings around a cardboard cutout of themselves, with the first person to do it ten times winning the Power of Veto. Cassie and North are off to a flying start, getting three rings each in succession. Rochelle, Roman and Victor are on two, while everyone else is on one, but James who hasn't got a single ring yet. After more throws, North takes the lead with six against Cassie and Victor who are on five. Eventually, it comes down to Victor, Cassie and North who are all sitting on nine rings, and with one gracious throw, Victor manages to win the Power of Veto challenge with his tenth ring. 
Victor
Most of the house congratulate Victor, as James looks depressed from losing. A few moments later, it's time for the Power of Veto ceremony. Victor announces that he will in fact use the Power of Veto, on Rochelle, saving her from eviction. Rochelle hugs him and wears the necklace with pride. Victor then passes over to Jasmine to nominate another housemate in her place. She announces that she will nominate North in her place, ending the ceremony.
After several more conversations between housemates, the time has finally come to evict the first player of the season. Every player in turn enters the Diary Room, and places a vote in the box, explaining their reasoning behind voting to evict that player.
Arion: I vote to evict James. According to Charlotte, he's been plotting things, and it's way too early to become paranoid about what somebody else is doing.
Byron: I vote to evict North, since James is my friend.
Cassie: I vote to evict James, something just doesn't sit right with me about him. Sorry dude.
Charlotte: No surprise here, I vote to evict James. Sneaky, sneaky.
Estelle: I vote to evict North.
Fallen: I vote to evict North, I haven't clicked with him as well as some of the other housemates.
Frankie: I vote to evict North.
Howard: I vote to evict James, purely because of what Charlotte told some of us, but yeah.
Misha: I vote to evict James, I ain't having people running around rallying troops.
Noelle: I vote to evict North.
Riccardo: I vote to evict James.
Rochelle: I vote to evict North.
Roman: I vote to evict James.
Victor: I vote to evict James, since I don't wanna be the reason somebody's going home.
Winter: I vote to evict James.
Big Brother announces the results of the eviction, confirming that James has been evicted in a 9-6 vote, and that he should leave the house immediately.
James
Week 2
Byron feels alone without James in the house anymore, but tries to keep his head high as its still early in the competition. Estelle explains in the Diary Room that she doesn't really have anybody that she properly clicks with just yet, but she enjoys Roman's company out of everyone in the house. North explains how relieved he is to be saved, and knowing he's potentially at risk of being evicted next, is going to try harder in the next Head of Household challenge. Charlotte and Noelle are sat on the couches talking about how fun the house has been so far, and Estelle comes and joins in with their conversation.
Arion and Cassie sit in a bed in the bedroom, talking about their lives outside of the house, becoming closer. Cassie notices Misha out of the corner of her eye in the other room, and begins to rant about how she doesn't clean up or do anything productive in the house, tiring Arion. Suddenly, Big Brother calls all the housemates to the couches, and announces that the second head of household competition will begin shortly, however, there is a small challenge beforehand.
A small red button has been hidden somewhere in the house, and whoever finds and presses it first will be immune for the week, and cannot be evicted. A horn then sounds, as the housemates go wild trying to find the button. The housemates spend ages searching for the button, with beds and duvets flying across the the bedrooms and furniture being thoroughly searched, as Cassie sits on the grand steps into the house, pondering where the button is. She then goes to the Diary Room to explain her thoughts, and notices the button is hidden behind one of the trees in the room. Charlotte then enters the Diary Room, and her eyes meet with Cassie before meeting with the button, which is now in plain sight for both of them. Cassie jumps for the button, thinking Charlotte would be running for it, but instead Charlotte leaves, leaving Cassie alone to press the button. Big Brother then announces that Cassie is the victor, and shall receive immunity from eviction for this week.
Cassie
The head of household competition then starts promptly in the garden. There challenge is endurance, where the housemates must keep turning a wheel to power on a light bulb, however, when the light bulb goes out, the housemate loses the chance to become head of household. Due to being the previous head of household, Jasmine is excused from the challenge, as well as Cassie since she has immunity. Fallen and Winter are the first to drop, very quickly after the challenge started, followed by North, Roman, Riccardo, Noelle and Howard. Estelle then drops next, followed by Byron, Frankie and Victor. Rochelle and Charlotte drop at the same time, leaving Arion and Misha. After a couple more hours, Arion eventually drops, crowning Misha as the Head of Household for week two.
Misha
Cassie rolls her eyes in disgust, as the other housemates cheer for Misha's victory. Cassie then storms off to the Diary Room, and explains her frustration with Misha and how bad she feels for Arion losing the challenge. Misha screams in glee. After some time has passed, it's time for Misha to make nominations. "This week, as Head of Household, I'm obligated to make nominations on behalf of myself and the house. Sorry to say it, but my nominations were pretty obvious for this week. I have decided to nominate Jasmine and Victor for eviction, purely because you two won both of the competitions last week. Nothing personal, I think you guys are cool, but you've proved to be good competitors." 
Cassie enters the Diary Room once again, and laughs at Misha's nomination choices. She also explains her joy in Misha putting a hefty target on her back for next week's eviction. Jasmine is annoyed that she's already considered a threat in the house, and after surviving this eviction, she has plans to try and lay low. Byron tries to make better friends and begins to hang around with Howard and North more. Cassie and Arion discuss their plans for after the Big Brother experience, and she explains that she wants to start living a more independent life. Winter explains her longing for home and her family, and explains she's finding it really hard to cope without them. 
The Power of Veto competition then begins, where the housemates have to identify a housemate with a specific scenario that Big Brother explains. Over the course of the game, it is revealed that Cassie has cheated on her ex-partner, Howard repeated secondary school, Estelle accidentally stole a pair of sunglasses form her mother's boutique, and that Arion peed in a public swimming pool as a young kid. After more and more rounds of shocking truths, Rochelle is crowned the winner of the Power of Veto. At the ceremony, she announces that she'll repay the favour to Victor, saving him from eviction. Misha then announces her replacement for eviction, being Noelle, just because her name is the closest to hers.
Rochelle
Noelle is clearly infuriated with Rochelle, but waits for the ceremony to end before speaking to her. Misha then leaves the room, leaving Rochelle and Noelle who is seething. Noelle explains to her that she'll be responsible for her eviction because of her stupid mistake, but Rochelle doesn't see what she did wrong. They continue to argue, but decide to leave each other alone for the rest of the day. Later that night, after a few drinks, the conversation eventually reverts back to Noelle and Rochelle and their argument continues. In fury, Rochelle throws her drink over Noelle, which accidentally goes over Estelle, Cassie and Misha as well, who all begin to join in the argument. 
Meanwhile, Fallen, Charlotte, Howard and Riccardo go to the bedroom to get some peace away from the arguing. Fallen then realises they all have tattoos, and they all discuss their stories surrounding them. Outside, the fighting continues as Frankie, Victor and Byron trying to separate Cassie and Misha, and Noelle and Rochelle, with Estelle going outside for a smoke. Back in the bedroom, Charlotte then proposes the idea of forming an alliance, just for later in the competition whenever any of them are facing eviction and need help, to which they agree happily. Charlotte then goes to the Diary Room, and explains the situation with Noelle and Rochelle, stating there is no way they'll be able to function as a formal alliance anymore after their argument. She states that she's confident in her new alliance, and is going to prioritise them over Rochelle and Noelle, if they survive the night. 
For the first time all day, the house falls silent as everyone has fallen asleep. The next morning, it is time for the housemates to vote for who they want to evict, out of either Jasmine and Noelle.
Arion: Last night was pretty bad, and it's hard to live in an environment where there will be conflict going on constantly, so for that reason I have to evict Noelle.
Byron: I vote to evict Jasmine, she's the reason James got evicted.
Cassie: Immunity's been good this week, and next week'll be even better when Misha is evicted. Gonna evict Jasmine anyway, don't want any power players lingering around till the finale.
Charlotte: I vote to evict Noelle, she's a lot louder than I thought.
Estelle: Gotta give props to that Noelle for sticking up to Rochelle, even though the fight itself was pretty petty to say the least. In this case, I'm gonna have to evict Jasmine this week.
Fallen: I'm voting to evict Jasmine.
Frankie: I'm voting to evict Noelle, I'm not breaking up anymore fights next week.
Howard: Hmm, I'm not so sure. I think since Jasmine's a more competitive threat, it'd be better to evict her. I'm gonna cast my vote to evict for Jasmine, then.
North: I'm gonna evict Jasmine, since she nominated me last week.
Riccardo: I'm voting to evict Noelle, drama on week two isn't gonna end well.
Rochelle: Obviously, I'm gonna have to evict Noelle. Thought we had a good thing going with this alliance, but guess not.
Roman: Noelle. 
Victor: I'm gonna have to evict Jasmine, for the same reason I had last week.
Winter: Noelle, not a fan of arguments...
Big Brother announces that a tie has occurred within the votes, and calls for Misha to announce which of the two housemates up for eviction that she will evict from the house.
Misha: Despite yesterday's events, I have to evict Jasmine, I'm very sorry and it's nothing personal, but you're my original nominee so it makes the most sense. I hope you can understand and I hope you enjoy life outside of the house.
Jasmine smiles and explains that it's fine, before hugging her. She then hugs the other housemates and leaves the house, ending week two.
Jasmine
Week 3
Following the events of the previous day, Rochelle is issued her first and final warning regarding her behaviour in the house. The housemates are gathered on the couches, and they discuss the eviction, many explaining how they liked Jasmine but were weary due to her HoH win in the first week. Big Brother then announces another immunity challenge will take place today, but with a twist. They also announce that from now on there will be three nominees per week, two will be decided by the Head of Household, while the other is determined either through a face-to-face vote or a competition. With that, the immunity challenge for the week will be set in motion. 
In the garden, housemates must balance two jugs of water whilst standing on a thin plank. Noelle wobbles, but holds strong. Meanwhile, Fallen drops her jugs, as well as Roman, Winter and Charlotte. Cassie and Misha taunt each other, trying to fake each other out, which ultimately ends in both of them dropping. Estelle then drops, followed by Victor and Frankie in unison. Byron and Howard then drop, followed by Rochelle, leaving Arion, North, Noelle and Riccardo. North and Riccardo then drop, leaving Arion and Noelle, making Cassie happy. After some time has passed, Arion eventually drops, crowning Noelle the winner of immunity. 
Noelle
Big Brother then announces Noelle as the winner of immunity, and announces the twist. Noelle must nominate somebody for eviction this week, and every other week through the Killer Nomination twist, which means that a housemate will be up for eviction until they are evicted or in the final, whichever comes first. Misha turns away slightly in her chair, anticipating to be on the receiving end, and Cassie's face lights up like a bulb. Noelle takes a look around and breathes, before nominating Rochelle as the Killer Nomination recipient, shocking Cassie and Misha. Rochelle's jaw hits the floor, and she turns red with anger.
The housemates return to the inside of the house, and Rochelle immediately starts shouting around at everyone, trying to locate Noelle, who is hiding in the toilet, trying to contain her laughter. Over dramatically, Rochelle starts throwing the pillows from the couch in anger. Charlotte then places a sign on the toilet saying "Noelle is here" without anyone noticing, and upon seeing it Rochelle runs to the toilet. She tries to open the door but it's locked, and she subsequently breaks the lock and pulls Noelle out. Frankie and Victor immediately come between them and hold Rochelle back as she spurts angry insults at Noelle, who is trying not to laugh. Roman escorts Rochelle to the Diary Room, who starts punching the walls before sitting down with Roman. She then bursts into tears for a long while.
Meanwhile, Noelle sits confidently in the front room, while Byron explains to her that all of this is her fault for provoking her. She shrugs, and Byron scoffs, before leaving the room. Meanwhile, the Tattoo alliance are enjoying some coffee in the kitchen, and talking about their time in the house thus far, and how the eviction process is stressful. Roman is then seen leaving the Diary Room as Big Brother chats with Rochelle, and Misha approaches him, proposing an alliance deal, to which he initially denies, before accepting after hearing Rochelle's crying from the main room. Roman then enters the diary room and explains that he doesn't want to be associated with problematic people in the house, especially the likes of Cassie, Rochelle, Misha and Noelle, however he then explains that Misha is the most reasonable of them all. Rochelle is then called to the diary room once again. In the bedroom, Charlotte is brushing her hair as Cassie and Arion explain their disappointment to each other after losing the challenge. 
Later on in the night, the housemates are chilling outside, with Howard and Charlotte in the pool. Everyone seems to be having a good time, then Big Brother calls everyone to the couches. Big Brother then announces that Rochelle has been ejected from the house, causing a stir between the housemates. Big Brother also announces that Noelle should pick another housemate to receive the Killer Nomination. After a couple of seconds, she decides to nominate Roman since he was the closest to Rochelle, leaving him feeling agitated. The housemates go to bed for the night, as Frankie and Byron have a pillow fight before falling asleep.
The head of household competition commences the next day. The challenge is to set up a domino trail on a platform and successfully make it fall to sound a gong at the end of the trail. Arion and Estelle are off to a quick start, with Howard and Fallen not too far behind. Arion and Estelle are deep in competition with each other, and take quite a drastic lead over the other competitors. After more time has passed, several housemates have given up as Arion and Estelle's lead became so substantial. They place their second to last domino, and rush back to grab their last one, before setting it in place. They then rush back to the start to push the domino, and while distracted, Cassie slightly budges one of Estelle's domino's when nobody is looking. Estelle manages to push hers first, with Arion close behind, taking the lead, until she notices one of her domino's not being in the right place. She rushes down the line to try and correct it, but it ends the chain, leaving Arion as the winner of Head of Household as his trail works. 
Arion
Arion leads the housemates into the lounge to announce his nominees. "Right, okay. My first nomination is Frankie, since I barely know you and you seem to be a big threat physically, nothing personal pal. Next, I'll be nominating Victor for the same reason. Sorry guys, but that's this nomination ceremony finished." 
Cassie pulls Arion aside and questions him as to why he didn't nominate Misha, and he replies saying he didn't want to seem like he was picking sides, which makes Cassie distraught. She goes outside and sits in one of the loungers on the grass, and Winter comes to join her. They have a talk about how tiring living in the house can be, and develop a friendship. Meanwhile, Victor and Frankie bond over being nominated. Estelle tries her hand at cooking lunch for everybody, but it goes incredibly wrong when she accidentally burns some toast, setting off the fire alarms. After being evacuated from the house, Big Brother announces the Power of Veto competition is about to start. Housemates will have to throw three darts into the bulls-eye of a target in order to win the power of veto. Byron manages to land his first dart easily, with Arion, Estelle and Frankie not too far behind. Noelle and Cassie then land their first darts, as Byron lands his second. Estelle and Noelle then land their second darts, as Fallen lands her first. Riccardo then lands his first dart, with Misha landing her first quickly after. Fallen lands her second dart, as well as Misha and Cassie. Charlotte throws a dart and misses, and officially gives up by sitting on the bench. Misha throws her third dart, but misses. Estelle then throws her dart, and it bounces off, and she screams in agitation. Fallen lines up her third dart, and throws it, landing perfectly in the bulls eye, winning her Power of Veto. 
Fallen
The power of veto ceremony commences, and Fallen explains that she feels awful about her decision, but she's going to let fate decide and not use the Power of Veto, ending the short ceremony.
In the lounge, Byron and Frankie discuss wrestling, whilst Noelle sits opposite them by herself. She goes to the diary room, and explains that she finds her situation difficult since the majority of the house is ignoring her, and that her only option of survival would be to continue winning challenges to guarantee her safety. Charlotte and Riccardo are discussing their backgrounds, and Charlotte reveals she used to go to a private school before her family's business faced bankruptcy. North finds a comic under one of the beds, and is curious as to who it belongs to. After asking around, he discovers it's Misha's, and they bond over comic books. 
After a couple more hours, the voting takes place between Frankie, Roman and Victor for eviction.
Byron: Despite his unfair circumstances, at least in my opinion, I'm gonna have to evict Roman since I get along with the other two much better than him, sorry man.
Cassie: Frankie, I think his attitude is very rude and he doesn't help around enough in the house generally.
Charlotte: Hmm, tough call. Personally, it's going to have to be Victor, he seems more able competitively compared to the other two.
Estelle: I vote to evict Victor.
Fallen: I like all of the guys, but I'm going to have to evict Frankie. He doesn't pull his weight in the house. I always find myself cleaning up after him...
Howard: Gotta go with Frankie, while I like the guy, he doesn't do enough with cleaning and such. It'd be no surprise to me if this was a common theme this eviction.
Misha: Victor, very much a competitive threat, need to get rid.
Noelle: I vote for Roman, since I nominated him.
North: I'm voting against Frankie.
Riccardo: I'm gonna vote for Frankie, just doesn't do anything constructive man, get's me down.
Winter: I'm good friends with all of the nominees...hmm...I'll have to go with Frankie. I'm so-so sorry.
Big Brother then announces, by a vote of 5-3-2, Frankie has been evicted from the Big Brother house. He says his goodbyes and hugs a few housemates, before leaving.
Frankie
Week 4: Brit Week
The next day, Big Brother calls the housemates to the sofas and introduces the week as Brit Week. It is explained that the public will decide the next evicted housemate, and that American rules are removed for the week. Everyone's fate is currently undetermined, as the housemates will nominate fellow housemates against the public vote within the week, and compete against each other in challenges to win immunity, cementing their place in the game, with the first ongoing challenge being explained immediately. The hall of fame with all of the housemates has been broken up into a big jigsaw puzzle, with rather small pieces being hidden all over the house. As an ongoing challenge, housemates must search for the pieces, and whoever manages to complete it will receive immunity as a reward. North notices a small bag hanging behind one of the planets in the corner of the room, and after the announcement he jumps up and grabs it, giving him 10 pieces. 
Meanwhile, Cassie approaches Arion in the garden and apologises for her temper with him regarding not nominating Misha. They hug and lie on the grass together. Estelle finds a couple more puzzle pieces down the side of the sofa, and complains at how small they are. Charlotte finds a small bag of pieces behind the chair in the Diary Room, before explaining how tedious the first challenge is. Noelle spots Howard looking around in the bedroom and begins to help him look for pieces. Under his bed, she finds a bag of pieces, and gives them to him. He asks her why she isn't claiming them for herself, and she replies saying she wants to try and build bridges with the remaining housemates, and she explains to him that helping him in the challenge seemed like a good option. He's about to leave the room, when he explains to her that she doesn't have to go out of her way to try and build a friendship with him, she just needs to be herself, before leaving the room.
Misha and Byron decide to check the bathroom for more puzzle pieces, and they find a few located around the place. Riccardo and Charlotte have a look around the garden to see if there's anymore puzzle pieces, and notice Cassie and Arion lying on the grass together. Charlotte then explains she's tired of hunting for the puzzle, and wants to just relax. Riccardo shrugs, and joins her on a lounger. Fallen and Howard quickly join them as they soak in the sun. Roman and Winter are relaxing inside on the couches, as Winter reads a book. Roman explains how much he misses having a phone, and that he hopes some sort of family visit challenge is coming real soon. Winter agrees, and she tells him that she reads to help pass the time whenever there is a gap between challenges, she then suggests that Roman should try finding something to help him pass the time, to take his mind off of things and to relax. He agrees and then leaves, and notices a lot of people lying in the sun, and decides to join them.
The housemates prepare to go to sleep, and Noelle notices a strange feeling when she lies on her pillow. She looks in the pillowcase and finds a note that's been shaped into a ball. She unravels it and reads it. It tells her to go to the Diary Room when everyone's about to go to sleep. She gets up, and leaves the room as the note says, and heads to the Diary Room, where she sees Cassie lying in the seat. Cassie explains that she wants to team up with her until Misha is evicted from the house, confirming that she isn't ready to give up the rivalry she has with her until she is gone for good. She then explains that Noelle must have some sort of power when it comes to agitating people, since she managed to get Rochelle ejected. Noelle immediately declines her offer, but then Cassie tells her that whenever her or Arion are head of household, she'll not be nominated, and leaves the offer open to her for whenever she wishes to respond. Cassie then leaves the Diary Room, with Noelle not too far behind as the day ends.
---
The next day, Big Brother reveals about a third of the overall puzzle has been put together so far, with many other pieces still being hidden. Despite this, the next immunity challenge commences. For this challenge, the housemates must hold up two poles, which keep a trap door shut. A tank of water hangs above them, and when the door is opened, the water will pour onto them, removing them from the challenge. Whoever can keep their water trapped for the longest will win immunity from the public vote. Cassie drops hers almost right away, and looks at Noelle before walking away to sit on the loser bench. Winter is next to drop, followed by Fallen and Arion. After a pause for around ten minutes, Roman and Charlotte drop. Howard and North are next to drop, leaving Byron, Estelle, Misha, Noelle, Riccardo and Victor. Noelle is next to drop, and a pause follows once again, until Riccardo drops. Estelle is next to drop, as the losers applaud her efforts. Misha then finally drops, leaving Victor and Byron. After another long pause, Victor finally drops with means that Byron is the winner of immunity.
Byron
As everyone celebrates, Big Brother announces that nominations will begin shortly, going in alphabetical order. A few moments later, Arion is called to the Diary Room.
Arion: My first nomination is going to be for Victor, purely because he's great at physical challenges, and that's a fact that's never gonna change. My second nomination is for Noelle, I don't know what her deal is but she has a very split personality, and I feel like what happened with Rochelle is the real her, which she's been hiding for obvious reasons.
Byron: My first nomination is going to be for North. He tries to get on with everyone, but I don't find him to be too genuine, no offence. My second nomination shouldn't be too surprising, but it's Cassie. I don't enjoy her company and I find her to be annoying at most times, so, yeah.
Cassie: My first nomination, clearly, is Misha. She's a stupid cow who has a superiority complex and an ego the size of the sun. Secondly, it has to be North. I've never spoken to him and he has the personality of a wet flannel.
Charlotte: My first nomination is for Cassie. She walks around like she owns the house and it makes me feel really uncomfortable at best. My second nomination is Arion, I think we need to break up the couple before they go on a power trip.
Estelle: Firstly, Victor, I don't want him to go on a winning streak for my own benefit, and secondly Arion, because it'd be entertaining to see Cassie struggling without him honestly. Lol.
Fallen: My first nomination will be for Cassie. I have nothing negative to say about her, however she has the messiest bed out of all of us...Secondly I'll have to nominate Misha, because this rivalry thing they have going on makes me very anxious and I don't want the house to explode again...
Howard: My first pick of the litter is Arion, I feel like he's holding back and I wanna see more of him. Secondly, Fallen, for the same reason. I definitely like her, and I know this won't result in her being nominated, I just hope it can give her a reality check. I feel like a lotta people are hiding in a shell. 
Misha: I don't know whether I'm being petty or what but...Cassie. I want to feel comfortable in the house again, and as far as I know nobody else has a specific problem with me other than the baggage of our hatred of each other. And my other nomination is Charlotte, she's real sketchy and it makes me rather anxious.
Noelle: My first nomination is for Arion, I like the guy but I think he has more to offer, which leads me to my second nomination, Cassie. While I respect her for trying to play the game, I'd sleep better knowing all these game players weren't lying around, sorry.
North: This is so difficult...well, apart from Cassie, I'm pretty sure everyone is gonna nominate her so I'll throw that name out there...and...uh...Victor, sure.
Riccardo: I really dunno what to do, so before this I randomly chose names out of a hat, literally, and I got Misha and Winter, sorry guys.
Roman: Without a doubt, my first nomination is Noelle, since she killer nominated me. Secondly, maybe a bit surprising, but I'm gonna nominate Charlotte. I have a hunch she's playing a bigger game than she's let on, and when I think about it, she was indirectly responsible for James' eviction, not sure if everyone's clicked onto it but I'm definitely watching her like a hawk.
Victor: My first nomination is Fallen, she's just too nice and I don't know whether it's fake or just her genuine nature. Outside of this situation this week though, I definitely wouldn't nominate her. Secondly, Cassie, she's such an annoying girl.
Winter: My first nomination is for Noelle, I don't support people dividing the house, which is why my second nomination is for Misha. I'm pretty sure Cassie is to blame mostly for the conflict between them, but I think she'll be on a lot of people's hit lists.
After being called to the couches, Fallen states that you have to nit pick so much to find a reason to nominate someone, and she also clarifies that neither of her nominations were anything personal. Big Brother then interrupts to announce the results of nominations. The housemates that are up for eviction this week against the public vote are...Arion, Cassie, Misha, Noelle and Victor. Big Brother then announces that one more immunity challenge will be taking place before the eviction, which will save any of the nominees from the block, including Roman, if they win. 
A couple of hours later, the next immunity challenge is about to begin. Housemates have to answer questions about their fellow housemates, and if correct, they can knock somebody out of the challenge, however, if they are incorrect, they will be knocked out of the challenge. The last person standing will win the final immunity before the public vote. Cassie manages to get the first question right, and knocks Misha out of the challenge. Roman gets the next question right, and knocks Cassie out. Estelle gets the third question right, and knocks out Arion. Roman gets the fourth question correct, and knocks out Noelle. Howard tries to answer the next question, but is wrong and knocks himself out, same with Fallen and North. Roman then answers the question and is correct, and knocks out Victor, leaving himself as the only nominated housemate in the challenge. Winter answers the next question correctly, and knocks out Charlotte. Riccardo gets the next question incorrect, and knocks himself out, leaving only Estelle, Roman and Winter. Roman gets the next question correct, and knocks out Estelle. The last question comes down to Roman and Winter, and Winter buzzes in first, but is incorrect, leaving Roman as the winner of immunity from the public vote, although he will still have to face nomination for every week afterwards. 
Roman
The voting then opens to the public! Who do you want to see evicted from Bleak Big Brother?
Who should be evicted from the Bleak Big Brother house?
Meanwhile, North and Estelle are looking around for more pieces to complete the puzzle, as only a few more pieces are missing. They find a few more pieces and now only one piece is missing from completing the puzzle. After a couple more hours, Winter notices the final piece in a plant pot, and completes the puzzle. Since the public vote is already open, Big Brother announces that Winter will receive a very special prize which is to be revealed. Afterwards, the housemates are gathered on the sofa as the next evictee is to be revealed. After a long pause, it is announced that the public have evicted Noelle from the house. Noelle quickly says goodbye to the house as a whole, and runs up their staircase, eager to leave. However, the fun isn't over yet as it is announced that tonight is a double eviction. To follow the traditional fashion of Bleak Big Brother, the safe housemates will vote to evict another of the nominated housemates face-to-face.
Byron: Easily Cassie, sorry...
Charlotte: Arion.
Estelle: Arion.
Fallen: ...I guess Cassie? 
Howard: Arion.
North: Cassie.
Riccardo: Arion.
Roman: Cassie.
Winter: I have to go with Arion, sorry...
Arion grunts, saying "what the hell" in response. Cassie gives him a small hug, and he leaves the house with Noelle.
Week 5: Rewind Week
After Arion and Noelle leave the house, Big Brother makes a surprise announcement to the audience. Four new housemates will be entering the attic, and will serve as the rulers over the house this week, before they join the competition. They will observe and learn about their new housemates, and ultimately have an important decision to make. They introduce themselves as Barry, Kia, Lawrence and Natalie, and head into the attic part of the house. 
| | | | |
| --- | --- | --- | --- |
| Barry | Kia | Lawrence | Natalie |
Meanwhile, back in the house, Cassie is feeling lonely and isolated after Arion's eviction, while the other housemates are relieved that Noelle is finally gone. Fallen and Charlotte are painting each other's nails in the bedroom, and notice that Cassie isn't speaking to anybody, and while they don't particularly like her, they feel bad for her. Charlotte explains her confusion surrounding feeling bad for someone like her, and Fallen can't help but agree. Roman and Misha are strategising in the garden, thinking about their next move as they're sure they're both seen as targets in the house. Estelle enters the diary room and explains her amazement at avoiding nomination thus far, but she feels like she's been on the backburner too long, and doesn't know whether she should really try to strike this time around. Part of her also feels really disconnected from the other housemates. She leaves the diary room, and immediately notices Victor in the kitchen, so she follows him and begins talking to him. In the garden, Charlotte approaches Fallen and Riccardo and she voices her opinion, stating that maybe they should try to make a move at the next Head of Household challenge, since their alliance hasn't really done anything as a group yet, despite being formed for a while. Fallen agrees, and she also apologises for not discussing the options when she won the Power of Veto, but Riccardo ensures her that she didn't need to, and that it was purely her decision regarding what she wanted to do with it.
Estelle and Victor get on well and decide to cook some breakfast for everybody, which proves to be a hit with everybody. They manage to cooperate and cook pancakes for the entire house, before realising it's actually pancake Tuesday. 
---
Elsewhere, the four Attic housemates have just been admitted into the attic. Barry exclaims how much he loves the nostalgic feel of the room, and he loves the decor especially. Natalie agrees, and she immediately gets comfy in an armchair in front of an off television. After rummaging around the armchair, she finds a remote, and manages to turn on the television onto a channel which shows the inside of the house, where everyone is eating breakfast. Kia is completely lost in the nostalgia and aesthetic of the room, and doesn't even realise what's happening in regards to the television. Lawrence realises that they must be able to watch the housemates, and the three of them grab headphones nearby to hear what's going on. Natalie then asks them if they've seen any of what's happened so far, and Lawrence replies with a little, while Barry says next to none. Natalie then makes it her mission to fill them in with what's happened so far, with Kia in a complete world of her own at the back of the attic. 
---
After breakfast is complete, the housemates get ready for the next Head of Household challenge. The challenge is a track challenge, where the housemates have to run lengths of the garden, and the last one is eliminated. This process continues until one person is left standing, crowning them as the Head of Household. Roman is out in the first lap, with Fallen next, followed by Cassie, Howard, North and Winter. Charlotte is the next eliminated, and then Misha and Estelle, leaving Byron, Riccardo, and Victor. Byron is the next one knocked out, leaving Riccardo and Victor in a very heated final race, with ends with Riccardo winning by a very small margin. 
Riccardo
Riccardo and Charlotte quickly exchange eye contact and follow each other to the Diary Room. Charlotte explains that after conferring with Fallen and Howard, that he needs to nominate Cassie and finally get her evicted from the house before she bounces back from Arion's eviction. Riccardo agrees, and they leave the Diary Room after Big Brother announces it is time for the nomination ceremony. Riccardo announces that he will be nominating Cassie since she has a very negative effect on the house, and she just brings down everyone around her emotionally. And then secondly, he nominates Winter since he doesn't believe she's playing the game, and that the other players have more to offer than she does.
Winter appears to be upset, so Riccardo immediately goes and talks to her. She explains that she's always had problems fitting in especially at school, and that she was bullied for how small and fragile she can appear to be. Riccardo apologises for his nomination but encourages her to perform her best in the Power of Veto challenge. Victor explains in the Diary Room how relieved he is for not being nominated for a fourth time in a row, and he states that he needs to seriously step up his game to avoid being evicted. He then states that he's going to try and solidify some sort of alliance with Byron in order to protect himself more in the game, since they get along pretty well.
Howard explains in the Diary Room how happy he is to be in an under-the-radar alliance, and that having control over one third of the votes in the house is a big move for a small alliance. While it isn't the majority, it's definitely a powerful position to be in. 
Soon after, the Power of Veto competition commences, where the housemates must answer questions about each other. Upon getting a question right, they must knock out another person until only one remains. If they answer incorrectly, they knock themselves out. Fallen gets the first question right, and knocks out Cassie. Byron gets the second question correct, and knocks out Riccardo. North answers the third question incorrectly, and knocks himself out. Estelle answers the fourth question correctly and knocks out Fallen. Misha answers the next question correctly, and knocks out Byron. Estelle answers the next question correctly and knocks out Misha, leaving Charlotte, Estelle, Howard, Misha, Victor and Winter. Victor answers the next question correctly, and knocks out Estelle, while Charlotte answers the following question incorrectly and knocks herself out. Winter answers the next quesiton correctly, and knocks out Victor. Howard gets the next question right, and knocks out Misha. Finally, Winter answers the last question incorrectly, knocking herself out, and crowning Howard as the winner of the Power of Veto. 
Howard
Howard contemplates what to do with the veto before holding the ceremony. After a small thought, he announces that he will not be using the Power of Veto. After his decision is made, Big Brother interrupts the house. Suddenly, a button is positioned in the centre of the couches, and Big Brother announces another twist is about to be set into play, if one person desires it. Due to finishing the puzzle, Winter has earned the right to press the button. She doesn't know whether the twist will have a positive or negative on her. She takes a moment to think, and after realising her position of nomination, she decides to push the button. Big Brother reveals that Winter has activated the Rewind Button, which means the week will restart entirely, with a new immunity competition starting very soon.
---
Meanwhile in the Attic, Kia is excited with the recent twist that has been put into play in the house, and she didn't know Winter would be able to pull off such a competitive move. Big Brother then announces to the Attic that they will have a big influence on the upcoming Head of Household challenge. Lawrence and Natalie speculate what their role will be in the challenge, while Kia decides to get an early night sleep. 
---
The immunity challenge is about to begin. The twelve housemates have to hang on a rope whilst suspended over a tank of water, and whoever can hang on the longest will win immunity. Estelle, North, Roman and Winter almost immediately fall into the water, with Fallen and Howard not too far behind. Charlotte and Riccardo fall next, leaving Byron, Cassie, Misha and Victor. Cassie is next to fall into the water, and Victor congratulates the other two for holding on for so long. Misha then laughs, and accidentally loses her grip on the rope and falls into the water. Byron and Victor then begin to fake each other out playfully. Victor tries to swing closer to Byron by swinging the rope, but loses his grip and also falls into the water, crowning Byron as the winner of immunity.
Byron
Victor, Misha and the other housemates congratulate Byron on his immunity win. After everyone has dispersed, Misha approaches the boys and suggests that they start an alliance, as soon they will all be branded as competitive threats, and it's better to have a cemented plan rather than doing nothing. Victor immediately agrees, but Byron doesn't seem so sure. Misha then reiterates that he's won two immunities in a row now, and if people catch on, he could be the one to leave next week, which leads him to reluctantly agree. 
---
Back in the Attic, Big Brother reveals that the attic housemates will be able to decide the Head of Household, and Big Brother will announce it as if the public voted for this individual to be the Head of Household. Natalie suggests that they pick Charlotte as the Head of Household, so more people can be aware of the game she is playing. Lawrence agrees, however, it could put her alliance in a very powerful position as they are currently the majority in the house. Kia suggests they go for someone who isn't in a power position if that's the case, like Estelle or North. Barry agrees, but considering how little North does, it would be suspicious if he is the audience's favourite, which leaves only Estelle. They then all agree that Estelle would be an easy choice for them in the long run.
---
Back in the house, Big Brother has called the housemates to the couches. They then announce that the next Head of Household has been decided by the public, who eventually crowned Estelle as the winner of the Head of Household title.
Estelle
She should immediately make her nominations. "Right...okay. I didn't expect this, at all. Uhh, my first nomination is North, just because I don't really see you interacting with people or making an effort, so it's hard to keep you here over someone else who I feel is enjoying the experience. My second nomination will be Cassie, because of previous experiences with you and I find it hard to talk to you. That is all, this ceremony is over."
Cassie explains in the Diary Room that she's lost most of her determination to continue in the competition considering her affiliation with Arion is what got him eliminated in the first place. Estelle enters after her, and complains that this twist has thrown a complete spanner in the works for her plans in the future. She's just glad that she could nominate two people who don't have as many connections as the others such as Fallen or Victor. She hopes she hasn't annoyed anyone with her choices, because she could easily become a nominee in the future if people make the assumption that she's popular with the public. 
Meanwhile, Charlotte and Riccardo are strategizing by the bottom of the stairs near the entrance to the toilet, and upon hearing whispering when she leaves the Diary Room, Estelle overhears. Charlotte explains that their best choice to evict would be Roman because he can perform in challenges, and the other two could easily be recruited as goats for their alliance in the future since they have no loyalties. Estelle hears this and walks back into the Diary Room to evaluate what she just heard. She comes to the conclusion that she needs to inform Roman so that they can work together to potentially backdoor one of the alliance members. She then ditches her previous strategy of being under the radar, saying that she may as well make a power play since she's somehow in the position of power. After a few more minutes, she leaves the Diary Room, and when nobody is looking, she drags Roman into the toilet with her, and locks the door. Extremely confused, Roman begins to panic, but Estelle reassures him it's not what it looks like. She explains that she just overheard Charlotte and Riccardo discussing their strategy for their alliance for the upcoming eviction, and that his name was thrown out as their best bet. She explains further that she doesn't know how big their alliance is, but they need to try and backdoor one of them by winning the Power of Veto. Roman agrees wholeheartedly, and they then leave the toilet separately, with a powerful plan in play. Estelle then explains that if he wins it, he's going to have to save Cassie, because she doesn't know if vetoing the Killer Nominee will allow her to pick a replacement, but she confirms he will not go home. 
The Power of Veto competition commences. Housemates have to throw a piece of rope around a bag, and pull it over towards them. After collecting five bags, they start to assemble a puzzle which when complete will give the winner the Power of Veto. Estelle, Roman, Misha and Victor are off to a quick start, all hooking one bag on their first throw. Roman and Misha get their second bags, while Charlotte and Byron get their first. Estelle gets her second bag, as well as Charlotte and Byron. Howard gets his first bag, as does Cassie. Roman and Byron get their third, while Howard gets his second. Charlotte and Howard get their third bags. Roman and Howard get their fourth bags, as Estelle gets her third. Charlotte and Estelle get their fourth bags, as Misha gets her third. Riccardo gets his first bag, Victor gets his second, and Misha gets her fourth. Roman, Misha and Estelle get their final bags, moments before Charlotte and Howard, and they all sprint to the puzzle with their bags. 
Roman and Charlotte both get a few pieces in quickly, as Byron and Victor get their final bags. Estelle struggles with the puzzle, but gets a couple of pieces in. After some time, most people are on the puzzle, with Charlotte and Roman being in the lead. Howard takes a step back for a moment, and notices a pattern between the shapes, and he quickly puts in more pieces of the puzzle. After some time, he's caught up to them both and overtook them, with only a couple pieces left to go. As the three race to try and complete the puzzle first, Howard manages to complete it, winning him the Power of Veto. 
Howard
In yet another short Veto ceremony, Howard announces that he will not be using the Power of Veto, which makes Roman and Estelle disappointed.
---
In the Attic, the only housemate to really watch the footage from inside the house is Natalie, who is extremely suspicious of Estelle and how she acted this week. The others seem to be distracted playing board games in the other section of the attic. 
---
A few hours later, after all the alliances have finished discussions and other strategies, it's time to finally cast the votes for eviction.
Byron: I'm going to evict Roman, he got way too close to winning today.
Charlotte: Roman, he's a serious threat compared to the other two.
Fallen: I wish we could've just collectively got rid of Cassie...ugh...I have to evict Roman.
Howard: I vote to evict Roman.
Misha: Honestly...I just remembered me and Roman are in an alliance, and it might just be easier if he's gone considering I have a much more powerful one with Byron and Victor...so...Roman.
Riccardo: I vote to evict, Roman!
Victor: Roman sure did well today, so we should probably cut him loose. 
Winter: Duh, Cassie! I don't know how people could vote for anyone else.
Big Brother then announces that Roman has been evicted from the Big Brother house. As he walks up the stairs, Estelle mouths the word 'Sorry', to which he smiles passive aggressively, making her turn away. Soon after, Fallen is called to the Diary Room, where Big Brother informs her that her grandmother has been admitted to hospital for a serious illness, and that if she wishes, she can leave to see her. Fallen stays silent for a moment with tears rolling down her face, before blurting "of course I'll leave". She then exits the Diary Room to the left, and Big Brother announces to the rest of the house that Fallen has walked from the house.
Week 6: Doubles Week
To kick off the week, Estelle is seen very emotional in the diary room. She apologises to Roman about not being able to save him from eviction, and knows that if her strategic side leaked to the rest of the housemates, she'd be an easy target. She's also very weary of the new housemates, and knows that they've definitely seen the rest of the series up to this point, therefore they're bound to be knowledgeable on the other housemates' character. 
Big Brother then introduces the week as another themed week, being Doubles Week. This means that all competitions will have two winners as opposed to one, which also means double the amount of nominated housemates. With that said, the immunity challenge is about to kick off. 
All of the housemates have been split into pairs, and two stations stand before them with alternating answers. Upon the question being read out, they must run to which answer they think is correct, with an alarm sounding to signal when they can go. The loser will be drenched in an unknown liquid, while the winner will stay dry. This will continue until two winners are crowned as the winners of immunity. They will be completely safe from the eviction.
The first round is between Riccardo and Natalie, where the question is 9 x 9. The answers are either 72 or 81, and while Riccardo struggles with the question, Natalie races to 81, thinking he'd be right on her tail. After a few seconds, he realises she's right, and hops over to the other booth, where he is covered in fish parts. After a few more questions, it comes down to Natalie vs. Barry and Winter vs. Howard. Natalie immediately knows the answer to her question, but decides to tell Barry and let him win the immunity, while Winter and Howard are both stuck with their question. Winter looks deep in thought, and eventually manages to come up with an answer, which appears to be the correct one, granting her immunity alongside Barry.
Charlotte and Riccardo immediately begin to talk strategy for the next HoH challenge, and with Fallen now out of the competition, they need to try and recruit new members for the alliance. They come to the conclusion their only options are Cassie, Estelle, North, and Winter, since they're the best possible candidates for the alliance, and aren't already in one or a newbie to the house. Meanwhile, Misha and Byron have a similar conversation and seize the opportunity to take the majority. Misha goes to talk with Estelle about strategy and she explains how she doesn't have many allies right now, and proposes that she joins the alliance, to which she accepts gracefully. Charlotte talks with North and manages to persuade him to join the alliance, while Byron and Riccardo go to speak with Winter, when the siren rings out signalling the beginning of the head of household competition.
For this competition, the housemates must balance blocks on a platform which is controlled by a piece of rope they hold. They must spell "Head of House" with the blocks, while making sure not to drop the tower. The two players who can do it the fastest will share the Head of Household position, due to it being doubles week. Natalie is off to a quick start, followed by Victor and Cassie. Byron and Misha are also close behind, as well as Charlotte and Riccardo. Moments later, Cassie's tower falls, forcing her to start again. After more time has passed, Natalie, Victor, Cassie, Byron, Riccardo and Howard are all close to finishing. After a quick thought in her head, Natalie drops the tower on purpose, to the surprise of the other housemates. Howard then drops his tower accidentally, as Victor completes his, earning him half of the head of household role this week. Seconds later, Cassie manages to emerge victorious and earn the other half.
At the nomination ceremony, Cassie explains to Victor that she wants in on whatever alliance he is in, and that she will comply with whatever choice he wants her to make, in exchange for a place in the alliance. Feeling like there's no other option, he agrees. Both head of houses choose two nominees each. Victor decides to nominate Charlotte and Howard, while Cassie, under the instruction of Victor, nominates Riccardo and North, completely wiping out any votes from that alliance. Howard is completely unfazed, thinking he'll win the power of veto challenge again and manage to save himself.
At the Power of Veto challenge, housemates have to hang from a bar suspended in the air, with the two lasting the longest winning the power of veto. Barry and Winter drop immediately, not needing the power of veto. North is the next to fall, as well as Kia and Misha. Lawrence and Estelle drop next, followed by a disappointed Riccardo, leaving Byron, Charlotte, Howard and Natalie. Not wanting to look anymore like a threat, Natalie drops, while Charlotte and Howard struggle as Byron looks fine. Charlotte's palms begin to sweat, and she slips through the bar, falling into the water, crowning Byron and Howard as the power of veto winners.
At the ceremony, as expected, Howard saves himself with the veto, while Byron doesn't use it. Since he nominated Howard in the first place, Victor must select a replacement and eventually chooses Lawrence as he doesn't know him well, and since Misha and Estelle are in his alliance, unknown to the newcomers. Meanwhile, Misha is distraught with Cassie being in the alliance, so Byron talks to her to help her calm down. She convinces her that keeping her enemies close will help her game, which she agrees with, annoyed with herself. Barry and Natalie also speak about making sure the Attic members are solid going into the eviction, as they can't afford to go into the eviction divided. Natalie explains that she wants to boot Charlotte, which Barry agrees with. Natalie informs Kia and Lawrence of this decision as well, not knowing that Charlotte was overhearing the conversation, leading her to talk with Victor's alliance to convince them to vote off Lawrence.
The housemates cast their votes for elimination:
Barry: I cast my vote for Charlotte. She showed her true colours of being a dictator in this game to us in the attic. 
Byron: What's better, an enemy you know or an enemy you don't know? Ugh, decisions. I suppose I'll have to vote for Lawrence.
Estelle: I'd be an idiot if I didn't think this week's theme would come into play this late in the week. With that in mind, I will vote for North.
Howard: There's only one person up I can vote for without getting into bother, so, sorry Lawrence.
Kia: I'm sticking with the attic alliance, I'm voting for North? I can't remember who we were after, huh, oh well! I'm sure it'll be okay! 
Misha: Estelle informed me of this little plan regarding tonight probably being a double boot, so I'll vote for North, to make sure we get rid of one person from each alliance!
Natalie: Charlotte. No question. 
Winter: This week has been so confusing for me, I think people wanted me in their alliance but gave up trying? I don't even know, but I guess I have to vote for someone. It'll have to be North, I just don't get along with him.
Big Brother reveals that North has been evicted with the majority of four votes, confusing Estelle and Misha. Big Brother then reveals that all evicted housemates from now on, including North, are part of the jury phase of the game, and will have a part in deciding the winner of the game. Big Brother then reveals that due to the theme being doubles week, another housemate will be evicted, but due to a 2-2 tie between Lawrence and Charlotte, they will have to compete in a tiebreaker to remain in the competition.
Outside in the garden, an arena has been set up with many small platforms. Charlotte and Lawrence are each given an oversized inflatable boxing glove, which they must use to knock the other person off of their platform. Big Brother also confirms that this challenge will reappear as the HoH competition for the next week in the game, and advises the housemates to watch carefully to study the game as the two tied losers battle it out. Charlotte and Lawrence have changed into reflective bodysuits and find a place on the platform to start off at. A bell dings, signalling the beginning of the challenge. Both parties swing violently to kick off the duel, leading to near misses on both sides. After some more swings, Lawrence manages to connect and Charlotte wobbles, and eventually falls off of her pedestal, but manages to grab onto it before her glove falls into the water. After being cheered on, Lawrence jumps across to her platform, and uses the glove to try and edge her off. However, she lets go of the platform with one hand and lunges up, grabbing the glove, before pulling it and Lawrence into the water seconds before she falls in as well. Through a photo finish, it is confirmed that Lawrence touched the water before Charlotte, annoying the housemates. They say their goodbyes to Lawrence before he leaves the Big Brother house.
Week 7
Charlotte flaunts her duel win against Lawrence throughout the house, smug in her achievements. The majority alliance begins to speak in the bedroom discussing the current situation, and they think they need to focus their attention on eliminating Charlotte. Victor also mentions that Howard would be the suitable second target since he keeps winning the Power of Veto competitions, and it could get to a stage where he is unbeatable. The alliance agrees, with their nominations going into the Head of Household solidified. Big Brother also announces that the stage of immunity challenges is over due to the lowering number of housemates. 
At the Head of Household competition, the competition heats up as only Misha and Charlotte remain in the competition. Misha throws some hard throws, making Charlotte stumble and panic from the pressure of winning. Misha continues to apply the pressure, and manages to push Charlotte off of the platform, crowning Misha as the Head of Household for the week. She confirms with her alliance that they're gunning for Charlotte again for eviction, and they confirm. At the nomination ceremony, Misha nominates Charlotte and Howard. 
Charlotte and Howard head to the Diary Room immediately to have a discussion. Howard begins to panic with them both being up for eviction, but Charlotte announces that she's glad Misha won the Head of Household, because they could easily try and get her to backdoor Cassie due to their rivalry, which she discovered hasn't exactly been fixed. She explains that they should frame Cassie for stealing one of Misha's items in the bedroom, and spark up the rivalry again to make sure she'll want to nominate her. 
Voting History
Week 1
Week 2
Week 3
Week 4
Week 5
Week 6
Week 7
Week 8
Week 9
Week 10
Week 11
Week 12
Day 50
Day 54
Day 57
Day 60
Head of
Household
Jasmine
Misha
Arion
(none)
Riccardo
Estelle
Cassie
Victor
Misha
Immunity Winner
(none)
Cassie
Noelle
(none)
Byron
Barry
Winter
(none)
Nominees
(pre-veto)
James
Rochelle
Jasmine
Victor
Frankie
Roman
Victor
Cassie
Roman
Winter
Cassie
North
Roman
Charlotte
Howard
North
Riccardo
Charlotte
Howard
Veto Winner
Victor
Rochelle
Fallen
Howard
Howard
Byron
Howard
Nominees
(post-veto)
James
North
Jasmine
Noelle
Frankie
Roman
Victor
Cassie
Roman
Winter
Cassie
North
Roman
Charlotte
North
Lawrence
Riccardo
Barry
In the Attic
Charlotte
Byron
North
Jasmine
Roman
Cassie
North
Cassie
No Voting
Roman
Lawrence
Cassie
James
Jasmine
Frankie
Misha
North
Not Eligible
Nominated
Nominated
Co-Head of House
Charlotte
James
Noelle
Victor
Arion
Cassie
Arion
No Voting
Roman
Nominated
Won
Estelle
North
Jasmine
Victor
Arion
Victor
Arion
No Voting
Head of
Household
North
Howard
James
Jasmine
Frankie
Arion
Fallen
Arion
No Voting
Roman
Lawrence
Kia
In the Attic
North
Misha
James
Jasmine
Victor
Cassie
Charlotte
Not Eligible
No Voting
Roman
North
Head of
Household
Natalie
In the Attic
Charlotte
Riccardo
James
Noelle
Frankie
Misha
Winter
Arion
Head of Household
Roman
Nominated
Victor
James
Jasmine
Nominated
Cassie
Fallen
Not Eligible
No Voting
Roman
Co-Head of House
Winter
James
Noelle
Frankie
Misha
Noelle
Arion
Nominated
Cassie
North
Lawrence
In the Attic
Nominated
Lost
Evicted (Day 40)
TBA.
North
Nominated
Jasmine
Frankie
Cassie
Victor
Cassie
No Voting
Nominated
Nominated
Evicted (Day 40)
TBA
Fallen
North
Jasmine
Frankie
Cassie
Misha
Cassie
No Voting
Roman
Walked (Day 33)
Roman
James
Noelle
Nominated
Charlotte
Noelle
Cassie
Nominated
Nominated
Evicted (Day 33)
Arion
James
Noelle
Head of Household
Noelle
Victor
Not Eligible
Evicted (Day 26)
Noelle
North
Nominated
Roman
Arion
Cassie
Evicted (Day 26)
Frankie
North
Noelle
Nominated
Evicted (Day 19)
Rochelle
North
Noelle
N/A
Ejected (Day 13)
Jasmine
Head of
Household
Nominated
Evicted (Day 12)
James
Nominated
Evicted (Day 5)
Evicted
James
9 of 15 votes to evict
Jasmine
8 of 15 votes to evict
Frankie
6 of 11 votes to evict
Noelle
83% of votes to evict
Arion
5 of 9 votes to evict
Roman
7 of 8 votes to evict
Fallen
Walked
North
4 of 8 votes to evict
Lawrence
Lost the Duel
Key:
     Head of Household
     Power of Veto
     Immune
     Nominated (Pre-Veto)
     Nominated (Post-Veto)
     Evicted
     Walked
     Ejected
Trivia
This is the first Big Brother fanon created by Bleak.
The same cast was used in an old Survivor fanon series of mine, called Survivor: Disaster Island.